How to improve SEO in too short posts
Let's see how to improve SEO in too short posts. But first of all, why?
🤷🏼‍♂️ Why to make longer posts
Higher ranking in search engines, then you get more visits
Readers engages better
More backlinks
More impact in social media
Authority perception
So basically, writing more you will be more of what you want 🙂
✍️ How to make longer posts
Some ideas to extend your posts:
Add a briefing
Add or split into sections, explain content better
Write like a story
Add a conclusion
💎 Don't forget quality
You should pay attention to the keywords, to make interesting/useful content, good structure, some images, your own style, etc.
Remember, you should give value in your posts
🧐 How many words to be a short or long post?
Some case studies found minimum word count of 250-300 words. And more than 1000 words posts have a great performance.
In 2016, Buffer shared that ideal post length was about 1600 words.
💪 How to find too short posts in Ghost
It's pretty easy:
Sign in into your Ghostboard account
In your dashboard, click on SEO in the left menu
Done!
Now if you have any too short post, you will see the next column: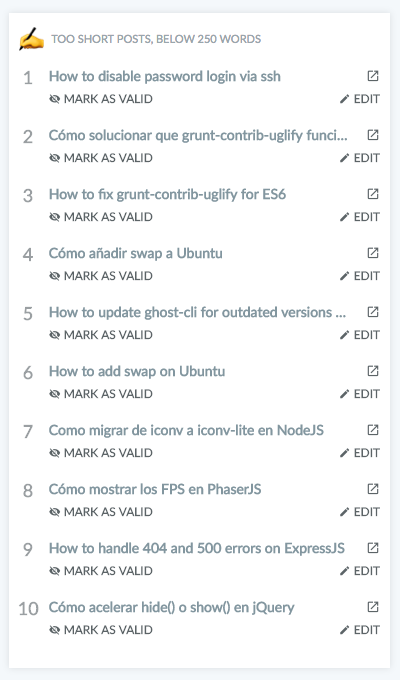 Note if you don't see the column, you don't have any too short post, well done! 🎉
😎 PRO Tip: If you click on the Edit link, you'll go directly to edit the post in your blog so can add the featured image ✍️
🙏 Thanks for reading
If you like the article or it helped you, share it with your friends
Leave a comment with your experience, question or doubt! Happy to help you 🙂