Right now it's available the IP filters, let's see how it works, why to use them and how to add and remove them
👁 How it works
You can add IP to avoid register visits from them.
It does not affect to previous visits from these IP.
You can remove each filter anytime
Available for IP v4
👍 Why add IP filters?
For example some use cases:
🏡 Filter out your own devices' IP: home router, office computer, etc.
👨‍👨‍👧‍👦 Your team members' IP
🤖 IP from bots or crawlers
In order to have more precise analytics
👮‍♀️ How to add IP filters
In your blog dashboard, ⚙️ Options > IP Filter > Manage IP filters blue button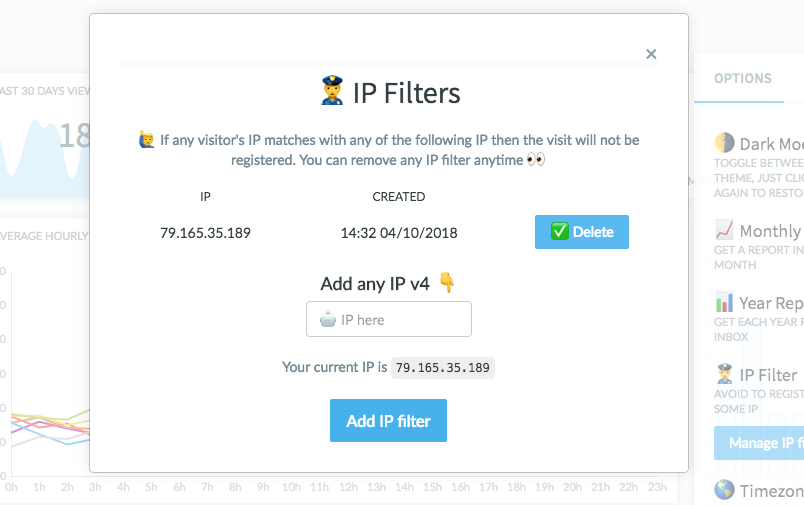 Write or paste a valid IP v4 and pulse blue button Add IP filter 👆
Done!
✅ How to remove IP filters
In the same IP Filter popup, you will find all the filtered IPs and when did you start filtering them.
In order to remove, click on the ✅ Delete blue button.
After remove it, Ghostboard will start to register visit from this IP. This can take up to 5 minutes if this IP entered recently ⏱
🗣 Questions, feedback?
Leave a comment below or contact in your dashboard with feedback box at bottom left corner 🙋‍♀️ Happy to chat with you 🙂
Thanks for reading! 👋
Follow @TryGhostboard on Twitter to be the first to see screenshots, ask anything or whatever!